There are various factors that pose a threat to the condition and operation of garage doors. Some of the most serious issues can arise due to rust. Find out how to protect all metal garage door parts from rusting.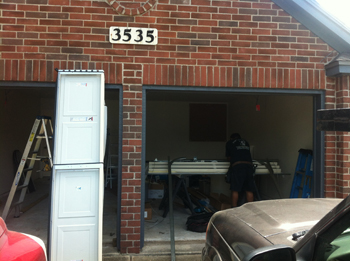 Proper Garage Door Maintenance
In general, the major parts of doors are galvanized and this makes them highly rust-resistant. However, if they are frequently exposed to moisture or if the protective layer is damaged by road salts or other chemicals, the risk of rusting will become higher. The garage door tracks are particularly vulnerable because they touch the floor. That is why proper care is required.
The most important thing is for you to provide proper cleaning to the different metal parts. That way, they will remain in good condition for longer. For proper cleaning, you need to use a solvent which works effectively without posing any risk. The citrus-based products are a good choice.
Lubricating all metal parts is equally important. With proper lubrication, there will be no intense friction. That way, the surface of the metal parts will not be scratched and this will provide effective protection from rusting. If you have a chain drive or a screw drive garage door opener, you need to lubricate the device's metal parts as well. If the metal parts are at greater risk of rusting, protective coating should be applied.
Aluminum overhead doors and metal roll up doors will require staining or painting with water-resistant paint. They require weather strips to be attached to the bottom, sides and top as well. These measures are crucial for the protection of the metal panels from rusting.
If you discover minor rusting, you have to remove it right away. For this, you have to use steel wool. Scrape off the rust, clean the area and provide lubrication. You should apply coating to protect the part from further rusting.
If the rusting has led to serious corrosion, the damaged parts have to be replaced right away. This is extremely important for parts whose malfunctioning can lead to a serious accident such as the garage door springs.